Let's open by saying that COVID can go jump off a cliff.
It's no secret that this pandemic has been bad for the events industry. Our beautiful weddings require careful planning and are absolutely time critical. Flower prep, co-ordinating vendors, sorting and loading hire items, venue bump in… And it's not only the wedding lead-up, there's the planning that takes place months in advance. So when lockdowns can take effect days before your ceremony is due to start? Yup, it's not great news. We as an industry have been challenged hugely to find ways of operating in such uncertainty, and under restrictions that have become the norm. It's heartbreaking to see our beautiful couples postpone their weddings, or elope when what they wanted was a big party with all their dear ones. We definitely never saw this coming!
But you know what? Life in general looks different right now. Jobs are uncertain, travel is off the cards, it's difficult to plan six months ahead; it's even hard to know how much toilet paper to buy. And we don't know how long it will last.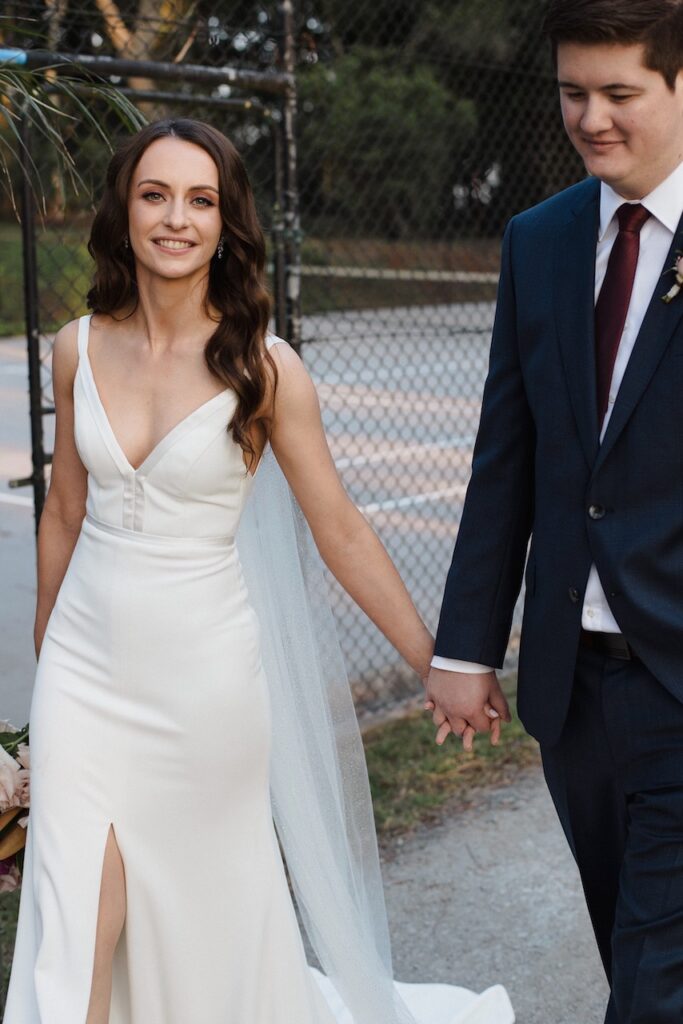 So what do we do?
This is the question everyone's asking. I've asked myself this while sobbing into my wine late at night. COVID has come and kicked the hell out of our beloved industry, and what can we do about it? The answer is: do what we've always done. Plan for the worst and hope for the best.
I can't count how many times brides have asked me 'What happens if it rains on my wedding day?' We've spent all this time planning to perfection an outdoor ceremony in the hinterland or a reception under the stars, but we can't plan what the clouds will do. The day might come, and it might rain, full stop. My job as a wedding planner is to consider the possibilities and make a good Plan B, and to make sure it's one you are happy about. And guess what, many wedding days have indeed played out in the pouring rain. I've had brides in gumboots, brides riding through flooded fields on tractors to reach their ceremonies, brides throwing away umbrellas to get that 'f**k it' photo with the rain pouring down. And these weddings have been some of my most memorable, because they are unique, and because the couples realise that it's the significance of their commitment that matters and not the weather.
COVID is the new rain. It's the torrential kind, that's for sure. But in order to keep marrying people we have to accept that this is just one factor we can't control that might impact our plans. But also, maybe it won't, and chances are you might still get the wedding of your dreams. We hope that weddings will get back to normal one day, but have no way of knowing when that will be. And unless you're willing to wait indefinitely, all we can do is plan your wedding hoping for the best, while putting in place a damn good backup plan.
What if there's a lockdown the week of my wedding?
This is probably everyone's greatest worry at the moment, so it's absolutely worth asking this question! We've had to deal with lockdowns and last minute changes of plan many times over the past year, so we are well set up to deal with it. Our couples tend to either postpone for another date, or change plans and do a small wedding or elopement (more on this later in the blog!). Generally there's enough time to reschedule your day if that's what you decide to do, and most vendors we work with are good about facilitating this. COVID has put a level of uncertainty in events, and that's just the reality right now. So we're not letting it surprise us any more! If you are getting married with Ivy & Bleu, we'll talk you through the possibilities so you can be prepared just in case something changes.
We recently had one of our gorgeous couples find out on the morning of their wedding that a snap lockdown would begin at 4pm that afternoon. (Before anybody has a heart attack, word on the street is that snap lockdowns won't happen like this anymore! This was a once off). Of course it was devastating for them, and not ideal for all involved to change plans while we were in the middle of setup. But this was an excellent example of why you should be picky with your chosen suppliers. That day, we fortunate enough to have a team of top rate vendors, who worked together to pull off the best version possible of the wedding our couple had initially planned. The day was reshuffled so that the bride and groom could say their 'I do's and still spend as much quality time as possible with their guests. We used all our floral product to create an unreal setting for their ceremony, took some amazing photos, before finishing with a 'f**k COVID' cake smash – squeezing as much fun out of the day as possible.
I was so impressed by how much grace they had for the situation, and how they were determined to enjoy every second no matter what happened. And even though it's easier said than done, that should be the mentality on any given wedding day – shouldn't it? Because sometimes the best man ruins the speeches, sometimes the drunken uncle causes a scene, sometimes the groom loses the rings, sometimes it pours with rain as you're walking down the aisle. And, as we are now experiencing, sometimes pandemics that just won't die cause us to cut our guest lists from two hundred to ten, and social distance from our dear ones when we'd planned on spending the night crammed together on the dance floor. BUT, this is your moment, no matter what, and the best thing you can do is enjoy it, no matter how far your experience strays from the plan.
I don't think my heart can take it… Can I elope instead?
Absolutely. Even though there's every hope we can pull off your dream wedding, if you're not willing to leave things to chance, elopement could be a good option for you.
With all the uncertainty over the past year, we are adapting at Ivy & Bleu and creating new options for our couples. We don't know when things will be back to normal, and so for now, small might be a safe way to go.
Elopement doesn't have to mean toned down or minimal. It doesn't have to be a letdown after what you were hoping for. This is absolutely still your big day! And if you love the Ivy & Bleu way, we can make it as memorable as possible, with all the lush florals, en pointe styling and wedding day fun you've been hoping for. We have new packages available to cater to couples looking for help with ceremony styling and florals only, to those who require full service planning, styling and vendor procurement. If you think this is something you might be interested in, download our new elopement brochure through the link below, and make a time to meet with us.
I hope this post has helped illustrate some of the current realities of the wedding industry. We wouldn't do anybody favours by pretending everything was business as usual; the truth is, weddings are tricky at the moment, and it sucks. We feel hugely for all the vendors out there trying to cope, and for the brides and grooms doing their best to make a wedding happen. Like everyone else, we are fighting the good fight and creating stunning events – even if that means wearing a mask. I sincerely hope that the events industry can one day return to what it was before COVID, in all its champagne popping, crowded, loud, barefaced, unrestricted glory. Until then, we are committed to making beautiful weddings no matter what, and will continue smashing as many 'f**k COVID' cakes as possible.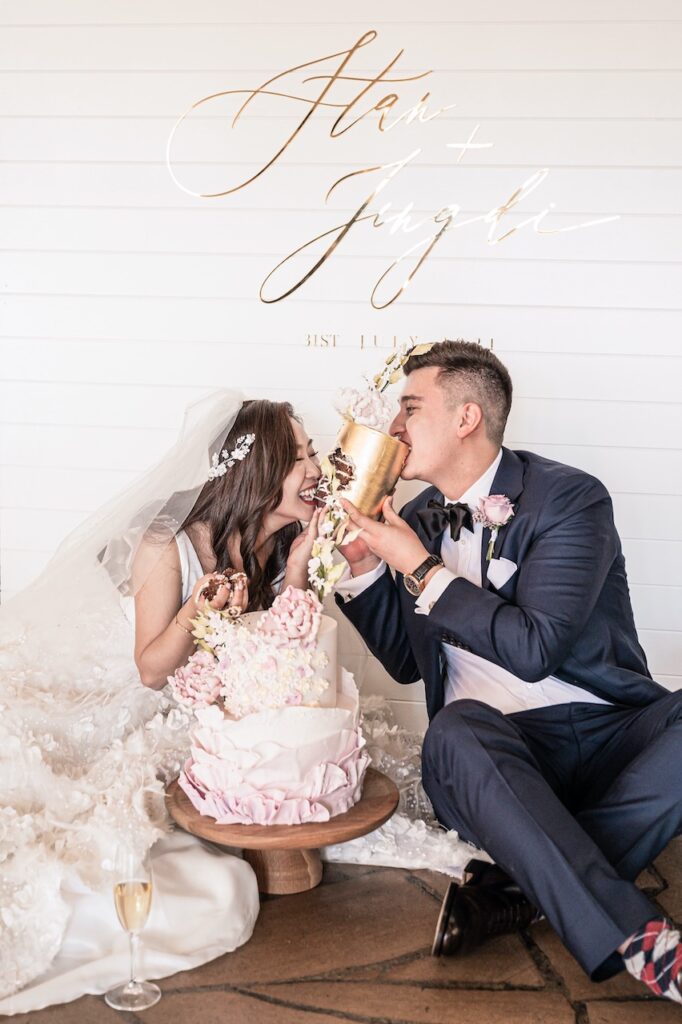 Imagery taken by Evernew Studios of Stan & Jingdi , Allume Weddings of Samantha & Patrick & Figtree Pictures of Chloe & Snowden